Rytons A1® Fire-rated Air Bricks are single, double and triple size galvanised steel air bricks.  Available in three styles – Return Grille, Square Holed and FlowRyt® – each air brick provides a high air flow whilst maintaining low resistance.  Fire classification A1 they are suitable for use in the external walls of high-rise buildings with a storey 18m high or more (11m in Scotland), where materials are required to be non-combustible.
Here are five additional things to know about the range:
Rytons make the only non-combustible air bricks with built-in weather protection to reduce the risk of water transferring into the cavity or attached HVAC ducting.
Precautionary drainage holes provide a discreet water outlet across all metal air brick designs.
Louvred styles (Return Grille and FlowRyt®) are designed with angled grilles to promote runoff.
More than grille plates, Rytons fire safe air bricks are 50mm deep.  This depth allows a telescopic fitting to Rytons A1® Fire-rated Ducting Kits, which gives the flexibility to extend the length of the ducting kit during installation to accommodate minor variations in the external façade.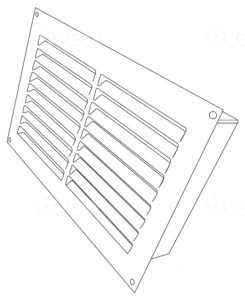 For further information or to discuss your A1 fire-rated air brick and ducting kit requirements, call our technical sales team on 01536 511874 or email admin@rytons.com.


Rytons is proud to be a family run business and British manufacturer since 1972