DVKIT125MG - Rytons 125mm Direct Ventilation Kit with Stainless Steel Meshed Grille
DVKIT125MG – Rytons 125mm Direct Ventilation Kit with Stainless Steel Meshed Grille
General Details
Quote Request
Related Products
General Details
DVKIT125MG – Rytons 125mm Direct Ventilation Kit with Stainless Steel Meshed Grille
Direct ventilation kit for stoves with 125mm diameter outlets.
Ducting attaches to the back of the stove via the manufacturer's outlet allowing combustion air direct from the outside.
Does not introduce light and draughts into the room.
Aluminium duct is made from a non-combustible material to DIN 4102 Class A1 and is suitable for temperatures up to 250°C.
Rytons Stainless Steel Cowled Meshed Grille (RD5MGSS).
Rytons Semi Rigid Aluminium RytHose (FSRA51.5M).
Two Jubilee Clips (JCLP125).
Grille: 188mm Dia. flange x 88mm D with 120mm Dia. male spigot.
Ducting: 127mm Dia. x 1.5m L.
Grille: Stainless steel.
Ducting: One layer aluminium.
Jubilee clips: Metal.
Box quantity: 1 set.
Box size: 43cm W x 19cm H x 22.5cm D.
Box weight: 0.88kg.
The Building Regulations, Approved Document J.
The Building (Scotland) Regulations, Mandatory Standard 3.20.
The Building Regulations (Northern Ireland), Technical Booklet L.

Rytons is proud to be a family run business and British manufacturer since 1972.
Related Products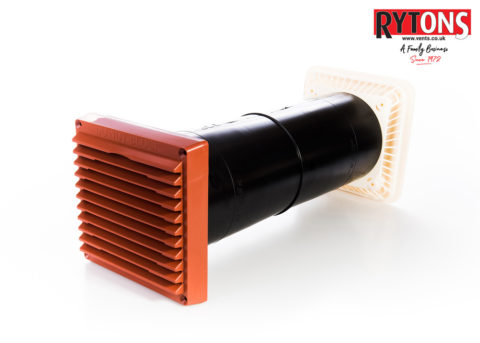 44 dB (Dn,e,w).
7,400mm² (74cm²) Equivalent Area