NEWS:
On Monday (20 January 2020), Robert Jenrick, secretary of state for housing, communities and local government, delivered his update on the Building Safety Programme.
With regards to the ban on the use of flammable materials, the Housing Secretary told the House of Commons "We banned the use of combustible materials in the external walls of high-rise buildings in December 2018.  My department concluded a review into the ban's effectiveness, and today I am announcing a consultation on the ban, again going significantly further, including by lowering the 18 metre height threshold to at most 11 metres."
The Minister added: "We saw in the Bolton fire [a student housing block fire in November 2019], where the building was 17.6 or 17.8 metres high – just a matter of centimetres away from the 18-metre threshold – that height alone was simply too crude a measure and that building safety needs to be proportionate to the building.  Height is likely to continue to be a very material factor – perhaps the most material one – but a range of other factors now need to be considered."
The Housing Secretary also warned that from next month (February 2020) he will start to name building owners where remediation has not started to remove unsafe Aluminium Composite Material (ACM) cladding from their buildings.  Part of the Government's commitment to delivering the biggest change in building safety for a generation.
To satisfy industry requirements for non-combustible ventilation, Rytons has drawn on its 48 years of experience as a ventilation manufacturer to develop a unique, registered design range of class A1 air bricks, plenum adaptors and cross-cavity ducting kits.  Fabricated in 0.9mm galvanised steel, a material not compromised at a temperature of 800°C, as required by the Building Regulations Approved Document B for ductwork spanning the cavity, this range is suitable for attachment to the building's rectangular HVAC and extract ducting.
Rytons has also designed precision tooling to diecast their popular cavity Rytweep® weep hole duct in non-combustible A1 fire-rated zinc metal, electroplated with a two-part coating to increase its anti-corrosive properties.  And, just like it's plastic counterpart, the Rytweep® A1 Metal is virtually invisible when installed, showing just the front face of the small weep outlet for a neat flush finish.  However, if required fire-rated RAL colour matching (achieving a test result of A2-s1, d0) is also available.
Rytons A1 Fire-rated Metal Air Bricks, Double Air Brick Plenum Adaptors and Ducting Kits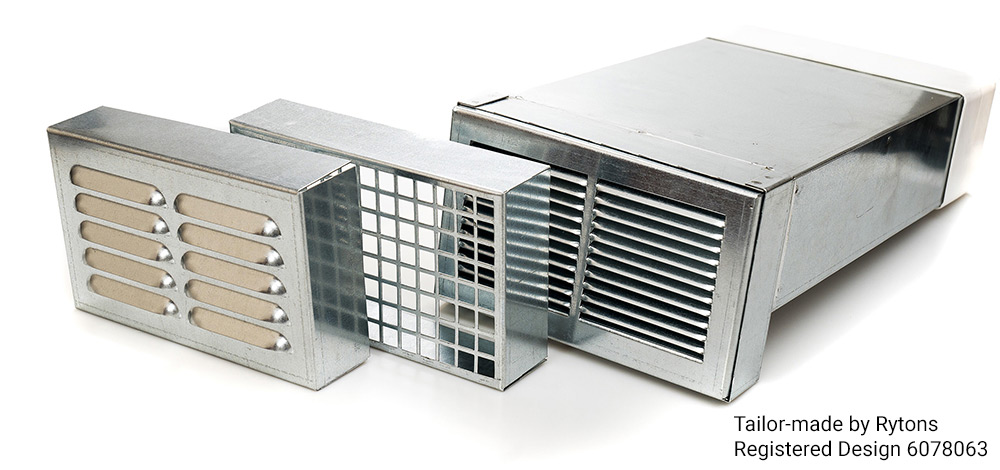 Rytons A1 Fire-rated Metal Air Bricks, Single Air Brick Plenum Adaptors and Ducting Kits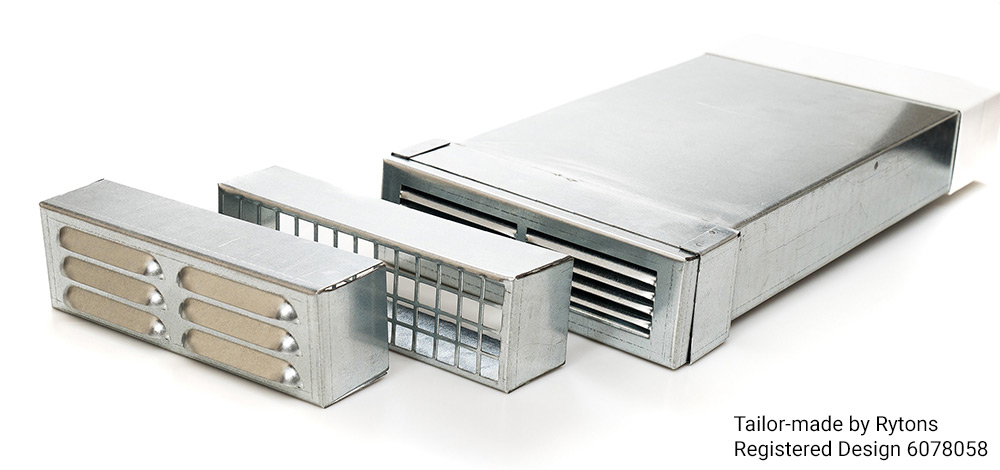 RYTWEA1METAL – Rytons Rytweep® A1 Metal (Fire-rated Cavity Weep)