With gas and electricity prices rising year on year, it's no wonder thousands of UK homeowners are looking for alternative ways to heat their homes in winter.  Interest in wood burning stoves as a secondary heat source has greatly increased over the past five years with figures showing close to 200,000 stoves are fitted annually.
Of particular interest are the Stove Industry Alliance figures for running a wood burning stove that show that they are a massive 77% cheaper to run than an electric fire and 29% cheaper per kWh than a gas effect fire.  Consequently installing an alternative to either of these fuels could result in significant savings on energy bills for the home owner.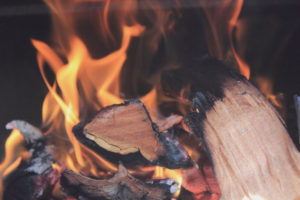 As well as the potential savings, a wood burning stove also brings character to a room.  There's something special, even mesmerising, about a real flame.  It's easy to lose yourself watching the flames dance, accompanied by the sound of the crackling of the wood.  Our senses are stirred – we feel relaxed, warm and cosy even on the coldest and darkest of winter nights.
There is also the warm glow we feel about the environmental advantage of using wood for fuel.  Renewable, sustainable and virtually carbon neutral, wood releases lower quantities of pollutants into the atmosphere than fossil fuels helping to combat climate change.  Sourcing and foraging for free wood is also a popular pastime, bordering on a sport for some people who have competition from their neighbours.
With so many styles of stoves available there's something to suit all tastes and budgets – from the traditional to the über modern – the aspirational to the more affordable.
As with any heat producing appliance, a stove should not be installed by just anyone.  A stove requires fitting by a HETAS registered installer who will ensure it is suitable for the room and is installed to latest regulations regarding positioning, flue linings and ventilation.
Ventilating the stove correctly will ensure it performs efficiently and safely.  As with any combustion appliance a stove can produce potentially fatal carbon monoxide gases if it is not installed, maintained and ventilated appropriately.  However, the thought of having a permanently open air vent installed can be a potential deal breaker for some people.
Rytons is the only manufacturer with HETAS approved vents and we speak to homeowners, HETAS installers and other specifiers regularly about all sorts of venting issues.  We find there are two main concerns people have about stove ventilation; the first is draughts – after all no one wants to have the shine taken off having a new stove by introducing a draughty vent.  The second concern is how the vent will look and how it can be hidden.
With style and performance key considerations we developed the Rytons LookRyt AirCore range of draught reducing ventilators for boilers, stoves and fires.  Easy to install through a 125mm diameter core drilled hole – even many storeys above ground level, this range of retro-fitted vents feature an internal panel with a revolutionary design.  Unlike standard louvres the LookRyt internal grille has permanently open venting slots sitting around the rear of a flat face plate.  This unique design gives a multi-directional air flow, allowing air to disperse evenly into the room significantly reducing draughts.  The internal face plate is supplied in magnolia but may also be wallpapered or painted in any colour to blend in with the room décor for a more discreet appearance.
All Rytons LookRyt AirCore ventilators have verifiable equivalent areas to comply with the Building Regulations Approved Document J and are HETAS approved for use with solid fuel appliances.
Welcomed by the industry, Steve Barson of Burley Appliances says "This product is absolutely excellent.  Having to install ventilation has always been a deterrent to consumers who are installing a large wood burner or a flueless fire, this innovation to the air vent removes all those negatives."
So now the issue of draughty and unattractive ventilators need no longer be an issue, the character and benefits that a wood burning stove brings to a home may be enjoyed for many winters to come.
To view our standard range of LookRyt AirCore ventilators click here.
To view our acoustic range of LookRyt AirCore ventilators for reduced noise transfer click here.
Find our full Boiler, Stove & Fire Ventilation brochure here.
First published on Rytons Blog 06.08.2014