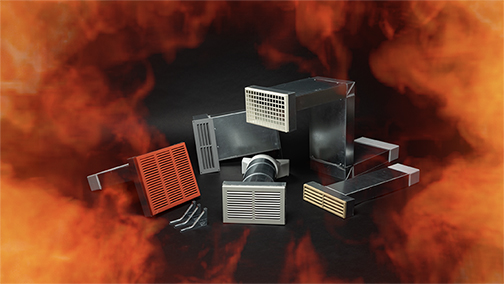 There's a dramatic new look to Rytons A1® Fire-rated Range on our website at www.vents.co.uk.  Not only are there new images and special effects, but also new product categories and new product launches – take a look!
With the Building Safety Bill now law in England, there is a new requirement for non-combustible products in the external walls of buildings 11m and above undergoing unsafe cladding remediation work.  With this in mind, we have re-structured our four A1 Fire-rated Ducting Kit Ranges into pages dedicated to kits for new build projects and kits for retrofit projects, making it even easier to find the product you want.
You will find an overview of all our non-combustible product designs quickly and easily, leading you to read technical product descriptions, download the product's technical performance, see how it conforms to standards, download drawings, find NBS Source specifications, and request a quote 24/7.
Rytons A1® Fire-rated Range is an unrivalled collection of bespoke fire-safe ventilators, compliant with regulations requiring the provision of non-combustible components in the external walls of these high-rise and mid-rise buildings:
New build high-rise projects with a storey 18m and above.
Buildings 11m and above undergoing cladding replacement.
Hospitals and care homes of any height and other residential buildings more than 11m high in Scotland.
For further information, or to discuss your A1 ventilation requirements, email admin@rytons.com or call 01536 511874.



Rytons is proud to be a family run business and British manufacturer since 1972