Make Sure You Know the Rytweep® for the Job
For fire safety, components used in the external walls of buildings with a storey 18m high or more (11m in Scotland) must now be non-combustible – this includes weep hole ducts.
For England and Wales, this change is applied through the 2018 updates to Building Regulation 7(2), which requires materials forming part of an external wall of a 'relevant building' to be of European Classification A1 or A2-s1, d0.
A 'relevant building' is a building with a storey at least 18 metres above ground level and which:
contains one or more dwellings
contains an institution
contains a room for residential purposes (excluding any room in a hostel, hotel or boarding house)
Student accommodation, care homes, sheltered housing, hospitals and dormitories in boarding schools are also included.
For Scotland, this change is applied through the 2019 updates to Building Standards Technical Handbooks, which state the external wall systems on all hospitals and care homes of any height and other residential buildings with a storey more than 11m above the adjoining ground, be constructed of products achieving European Classification A1 or A2.
Every year millions of Rytons Rytweep® concealed cavity weep hole ducts are used by house builders, bricklayers and contractors nationwide, making them an industry favourite.  Available in the original plastic and a non-combustible, A1 fire-rated, fire-safe metal, there's a Rytweep® suitable for all buildings, from houses to high-rise.
Make sure you know the Rytweep® for the job.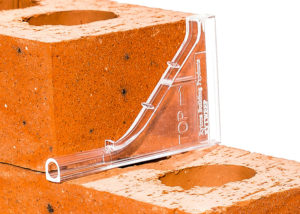 Rytons Original Rytweep®
• The first concealed plastic weep hole duct.
• Ultra-clear for use with any colour brick/mortar.
• The Rytweep® for house building.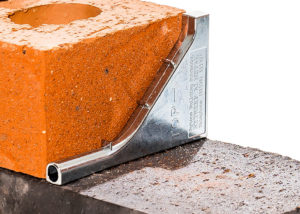 Rytons A1® Fire-rated Metal Rytweep®
• The first non-combustible concealed weep.
• Made from A1 fire-rated metal.
• Fire-rated powder coating colours available.
For further information and free Rytweep® samples, call our technical sales team on 01536 511874 or email admin@rytons.com.

Rytons Rytweep® and Rytons A1® Fire-rated Metal Rytweep® are available from stockists nationwide – ask our technical sales team for details.
Rytons A1® Fire-rated Rytweep® UK Patent Pending GB1916157.9.  Registered Design 6078064.
Rytons A1® fire-rated, fire-safe, non-combustible
metal ducting kits for multi-storey buildings
Useful Information – European Fire Classifications:
A1: Non-combustible.
A2: Non-combustible (Scotland).  Limited combustibility (England and Wales).
A2-s1, d0: Little or no smoke emitted.
A2-s1, d0: No flaming droplets produced.

Rytons is proud to be a family run business and British manufacturer since 1972