MFAB96 - Rytons 9x6 Multifix® Air Brick
MFAB96 – Rytons 9×6 Multifix® Air Brick
General Details
Pressure Loss Data
Quote Request
Related Products
General Details
MFAB96 – Rytons 9×6 Multifix Air Brick
Robust interlocking 9×6 air brick.
Grille design allows a high air flow with low pressure drop performance.
Textured finish maintains aesthetic appearance.
U.V. stabilised to slow down the effects of sunlight.
Note: Not suitable for use in relevant buildings with a storey 18m or more above ground level, where fire-rated materials are a requirement.  Use Rytons A1 fire-rated single air brick and double air brick ventilators and ducting kits as an alternative.
215mm L x 134mm H x 59mm D (see image gallery above).
CAD drawing available by email.
15,185mm² (151.85cm²) per unit.
Buff/Sand: MFAB96BS.
Terracotta: MFAB96TC.
U.V. stabilised polypropylene.
No special fixing required.  Installation is fast and easy with Rytons 9×6 Multifix Air Brick replacing standard bricks.  Place at high and low levels.  Vertically stagger above and below horizontal fire stops.
Box quantity: 9 number.
Box size: 35cm W x 28cm H x 23cm D.
Box weight: 1.6kg.
British Standard BS 493 recommends that for a louvre design air brick the size and shape of the apertures shall be such that a steel ball of 9.5mm nominal diameter shall not pass through.

Rytons is proud to be a family run business and British manufacturer since 1972.
Related Products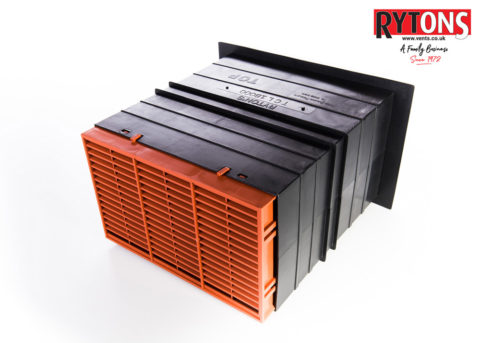 17,500mm² (175cm²) Equivalent Area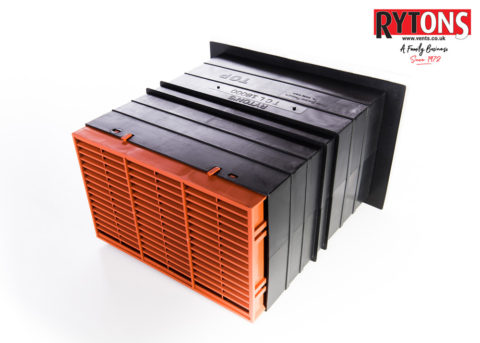 19,800mm² (198cm²) Equivalent Area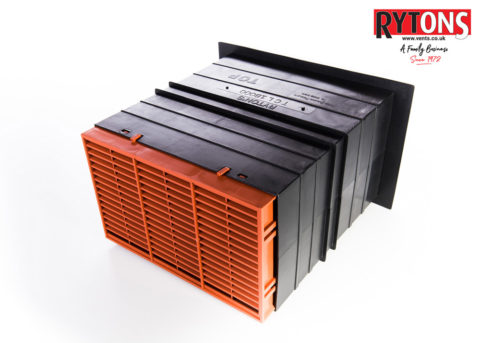 39 dB (Dn,e,w)
6,300mm² (63cm²) Equivalent Area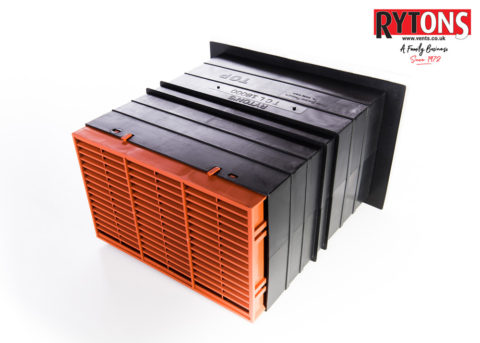 39 dB open / 40 dB closed (Dn,e,w)
10,500mm² (105cm²) Equivalent Area