MFAB - Rytons Multifix® Air Brick
MFAB – Rytons Multifix® Air Brick
General Details
Pressure Loss Data
Quote Request
Related Products
General Details
MFAB – Rytons Multifix Air Brick
Robust interlocking air brick.
Grille design allows a high air flow with low pressure drop performance.
One size can form a unit 9×6, 9×9 etc.
Textured finish maintains aesthetic appearance.
Use with Rytons Periscope® Underfloor Ventilator PUFV and AirLiner® cavity liners 9×3, 9×6 and 9×9.
U.V. stabilised to slow down the effects of sunlight.
PLEASE NOTE: This item is a plastic component and therefore not suitable for use within the external walls of high-rise buildings requiring non-combustible materials, i.e. those 18m high or more complying to Regulation 7(2) and Approved Document B, and those 11m high or more complying to 2.7 of Building (Scotland) technical handbook 2019.  For compliant alternatives, which includes our tailor-made design service, see Rytons A1 Fire-rated Ventilation Range.
215mm L x 66mm H x 58mm D (see image gallery above).
CAD drawing available by email.
7,750mm² (77.5cm²) per unit.
Terracotta: MFABTC.
Buff/Sand: MFABBS.
Blue/Black: MFABBB.
Grey: MFABGR.
White: MFABWH.
Brown: MFABDB.
Black: MFABBL.
U.V. stabilised polypropylene.
No special fixing required.  Installation is fast and easy with Rytons Multifix Air Brick replacing a standard brick.  Place at high and low levels.  Vertically stagger above and below horizontal fire stops.
Box quantity: 20 number.
Box size: 35cm W x 26cm H x 23cm D.
Box weight: 2kg.
British Standard BS 493 recommends that for a louvre design air brick the size and shape of the apertures shall be such that a steel ball of 9.5mm nominal diameter shall not pass through.

Rytons is proud to be a family run business and British manufacturer since 1972.
Related Products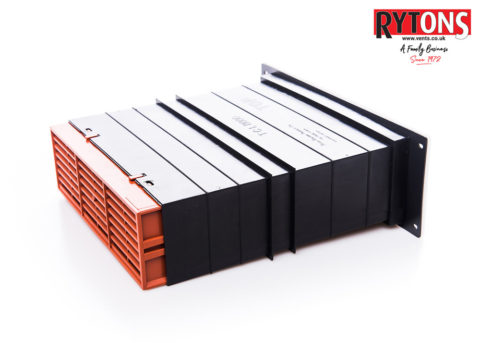 9,400mm² (94cm²) Equivalent Area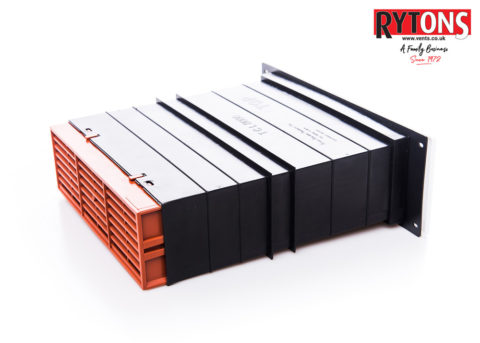 10,200mm² (102cm²) Equivalent Area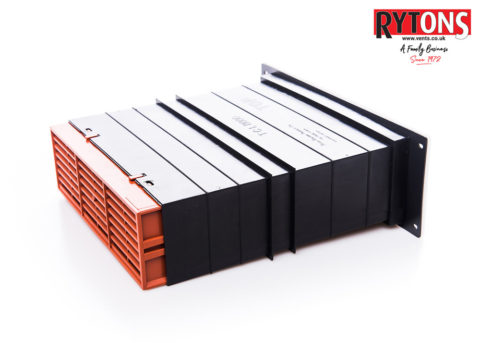 38 dB (Dn,e,w)
5,800mm² (58cm²) Equivalent Area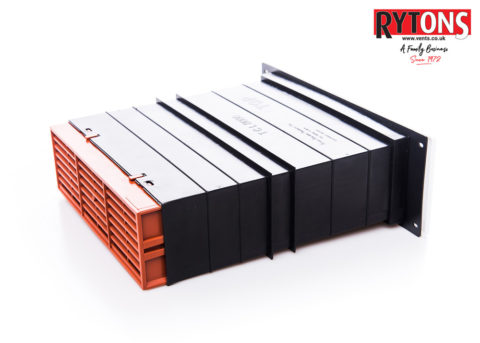 38 dB open / 39 dB closed (Dn,e,w)
6,300mm² (63cm²) Equivalent Area