DVKIT100 - Rytons 100mm Direct Ventilation Kit with 6x6 Louvre Grille
DVKIT100 – Rytons 100mm Direct Ventilation Kit with 6×6 Louvre Grille
General Details
Quote Request
Related Products
General Details
DVKIT100 – Rytons 100mm Direct Ventilation Kit with 6×6 Louvre Grille
Direct ventilation kit for stoves with 100mm diameter outlets.
Ducting attaches to the back of the stove via the manufacturer's outlet allowing combustion air direct from the outside.
Does not introduce light and draughts into the room.
Aluminium duct is made from a non-combustible material to DIN 4102 Class A1 and is suitable for temperatures up to 250°C.
External grille U.V. stabilised to slow down the effects of sunlight.
PLEASE NOTE: This item has a plastic component and therefore not suitable for use within the external walls of high-rise buildings requiring non-combustible materials, i.e. those 18m high or more complying to Regulation 7(2) and Approved Document B, and those 11m high or more complying to 2.7 of Building (Scotland) technical handbook 2019.  For compliant alternatives, which includes our tailor-made design service, see Rytons A1 Fire-rated Ventilation Range.
Rytons 6×6 Louvre Ventilator (LV103).
Rytons 6×6 Louvre Backplate with 97mm Dia. Spigot (LV4BACKWH).
Rytons Semi Rigid Aluminium RytHose (FSRA41.5M).
Two Jubilee Clips (JCLP100).
Louvre grille: 166mm L x 160mm H.
Ducting: 102mm Dia. x 1.5m L.
Terracotta grille: DVKIT100TC.
Buff/Sand grille: DVKIT100BS.
White grille: DVKIT100WH.
Brown grille: DVKIT100DB.
Black grille: DVKIT100BL.
Louvre grille: U.V. stabilised high impact polystyrene.
Backplate: High impact polystyrene.
Ducting: One layer aluminium.
Jubilee clips: Metal.
Box quantity: 1 set.
Box size: 43cm W x 19cm H x 22.5cm D.
Box weight: 0.5kg.
The Building Regulations, Approved Document J.
The Building (Scotland) Regulations, Mandatory Standard 3.20.
The Building Regulations (Northern Ireland), Technical Booklet L.

Rytons is proud to be a family run business and British manufacturer since 1972.
Related Products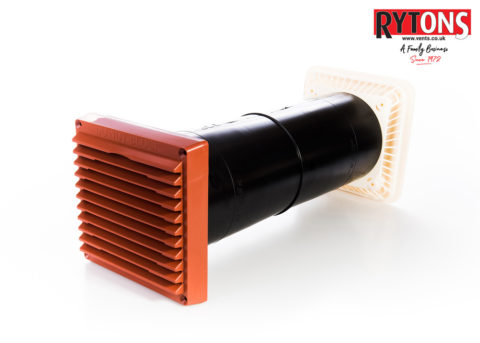 44 dB (Dn,e,w).
7,400mm² (74cm²) Equivalent Area