TL18FIRE - Rytons 9x6 Intumescent RytBlock
TL18FIRE – Rytons 9×6 Intumescent RytBlock
General Details
Video
Related Products
General Details
TL18FIRE – Rytons 9×6 Intumescent RytBlock
Heavy duty intumescent grille for walls and ducts.
In the event of a fire the slats fuse together and give a complete seal in 2 minutes.
Gives 3 hours protection preventing the passage of smoke and gases.
Tested in accordance with BS476 Parts 20 and 22.
Temperature increase insulated for 22 minutes.
Steel framework protects surrounding intumescent materials by preventing the inward deformation.
May be used in high humidity.
Compatible with Rytons 9×6 AirLiner® cavity liners.
13,390mm² (133.9cm²) per unit.
206mm L x 124mm H x 44mm D (see image gallery above).
CAD drawing available by email.
Steel framework protecting intumescent materials.
Position the intumescent block between the baffle and air brick externally or at the internal end of the adjustable cavity liner sleeve (whichever location has the greater fire risk).  Note: If using the intumescent block at the internal end of Rytons '9×6' Acoustic AirLiner then angle the intumescent block between the foam panels.
Important: If positioning externally, ensure the wall is of a sufficient thickness (103mm minimum) to allow the intumescent block to be surrounded by brick or blockwork once installed.  The intumescent block must be completely surrounded by brickwork or blockwork for successful deployment.
Related Products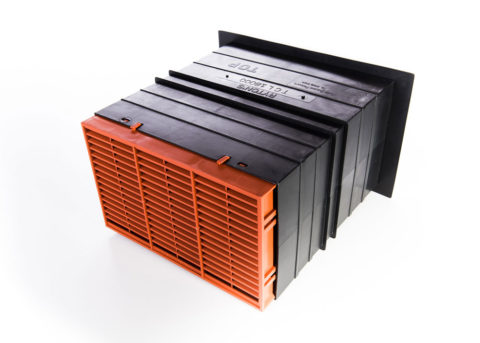 17,500mm² (175cm²) Equivalent Area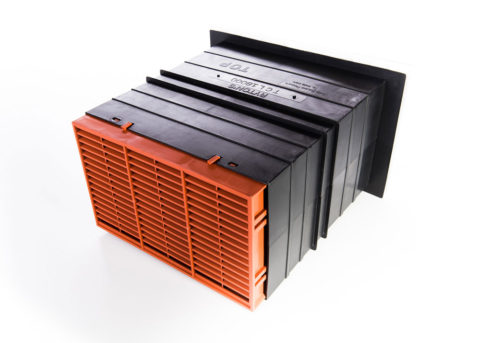 19,800mm² (198cm²) Equivalent Area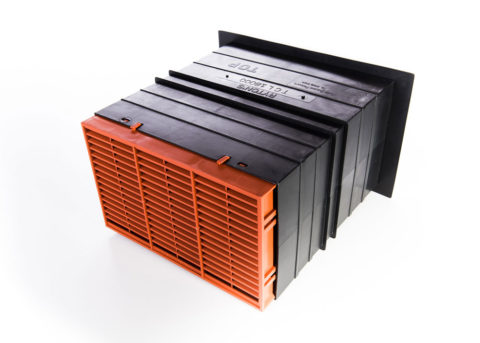 39 dB (Dn,e,w)
6,300mm² (63cm²) Equivalent Area